Our Ultimate Slot Game Guide
We have an absolutely huge range of slot games on our site, with games from all sorts of top developers. These games are here to help you on your way to get a chance to win and to provide a bit of extra entertainment. Get started spinning those reels with our helpful guide!
How to Play Slot Games
Most slot games are really simple to play, they don't take much research to get started with. The main part of the process is to set up how much you want to bet with, which will be different in each game.
For those that have customisable paylines, like 99 Time, you will be able to play from just a penny with one line active. The downside to playing with less paylines is that you'll have less of a chance to win, though you may get to play more games with the budget that you have.
Some games will have a manual spin button and others will give you the option to use an auto play feature. Either way, spin those reels and then wait for them to stop with baited breath. Then you'll need to gather up three of a kind of any symbol to win. That's all there is to it!
Slots with Bonus Features
When it comes to the most popular slot games, these are usually bonus features within there. These can include:
Free Spins – These are really common within slot games and are usually unlocked when you find three of the scatter symbols. These will start the round automatically and you will begin to play for free with the same wager that triggered the round.
Wild Symbols – These types of symbols are ones that can take the place of other ones, with a few exceptions. Their role is to make it easier for you to be able to get a chance to win and in some cases they will even add a multiplier onto your win as is the case in the Stampede slot.
Random Bonuses – You don't always need to watch out for certain symbols to help you win, as some of them can be randomly triggered. All you need to do is keep your fingers crossed and hope for the best.
Picking Bonus Rounds – For those that have played games like Fluffy Favourites, you will know what these bonus rounds are like. All you need to do is pick symbols at random to add additional multipliers onto your jackpot and bet.
Gamble Bonus – This is an elective bonus round that exists in many games, Twinkle has one for example. This bonus feature can be activated after any winning combo and it's your chance to win a bit more, just by picking a couple of options correctly. The only thing you need to remember is that if you guess wrong, you'll lose it all.
These are some of the common bonus features, though the possibilities really are endless. The sheer number of games out there means that there's a lot of innovation and additional features out there.
Picking Slot Games
When choosing slot games, there are a few things that you can do to ensure you're getting the best possible experience. Here are the aspects that you might want to check out before you start to play:
The RTP
The return to player percentage – or RTP as it can be shortened to – is a statistic that you can find when looking at the information page of a game. This is an average which is calculated based on the total number of wins out of 100 that a player can expect. Games with a high RTP that you can play here include Irish Luck and Unicorn Bliss.
The Structure
Slot games don't just have to come in the same three reel, five row structure that you're accustomed to. They can have all shapes and sizes in the design, take the Red Riding Hood Riches slot as an example – this slot allows you to play vertically or horizontally. There are also games like Aloha Cluster Pays that look more like a mini game than a slot game.
Betting Options
Not all games are built for the high rollers out there, they can have a range of betting options for all players. Some slots can be played with just a penny if they have adjustable line bet, though this will affect your chances of winning. With just pennies a spin, you can still hit a jackpot. If you want to bet small then games like Pirate Princess have a low minimum bet, with the flexibility to spend more if you choose.
The Popularity of Online Slots
Online slots in general have become a lot more popular over the last couple of years, especially with players on bingo sites like ours. There are a few reasons why this has been the case:
Gaming is much more accessible these days, with almost everyone owning a smartphone, tablet or computer that they can get online with. In the past, people would need specialist tech to play and this could be a bit of a barrier.
We all love to win big and slot games appeal to this sense of fun, as well as having some pretty big jackpots to claim. The jackpots that are available within slot games can be much larger than those offered by your average bingo game.
Some bingo players find it a bit frustrating to have to wait around for a game to start. When playing slots instead, you do everything on your own schedule, from the types of games you want to play to how much you want to bet.
Developers like Eyecon and NetEnt have been around for a long time, but with improved tech and more players they are able to do so much more. This allows them to create interesting and immersive games with their own stories – Jack and the Beanstalk is an excellent example of this.
As the years go on, developers will most likely make the most of new tech and graphics. This means that slot games are only going to get bigger and better.
Our Top 4 Slots
If you would like our expert advice on the slots that we think you should play on first, the following ones are some of our favourites:
All of these games can be found in our lobby and we also have informative game guides to teach you how to play each one.
Best Slot Game Developers
You may not think about the people that make the games you play very often, though if you pay attention to the ones you like, you will be more likely to enjoy their other games too. Below, you'll find our favourite developers:
Eyecon
This famous developer is known for games like the Fluffy series but they're still creating new games to this day. Their earlier games still have a lot of playing value and fun jackpots, so stand up to the more modern slots out there. The newer games still capture that same magic, with some more added features to help them stand out from the crowd too.
NetEnt
For those that are looking for seasoned slot game developers that ladle on the bonus features, you can't go wrong with NetEnt. Their games often take simple concepts and build on them to make amazing slots. Some of their games can have as many as 8 or 9 different bonus features, so you can certainly expect them to be action packed.
Playson
If you've played our games like Art of the Heist or Down at the Pub then you'll have tried out this developer already. They're not that well established yet, but it's safe to say that their stuff is really innovative, with a cheeky twist. Their 3D graphics help to make their games feel a bit more immersive – you really will feel like you're sitting in your local with them!
NextGen
The developers behind games like Ramesses Riches, it's safe to say that these guys know their stuff. They tend to focus on a set theme for each slot game, then design the reels and symbols around it. This creates a game that doesn't just look the part, but also features a lot of fun symbols and games to make the best game possible.
What we Look for in a Slot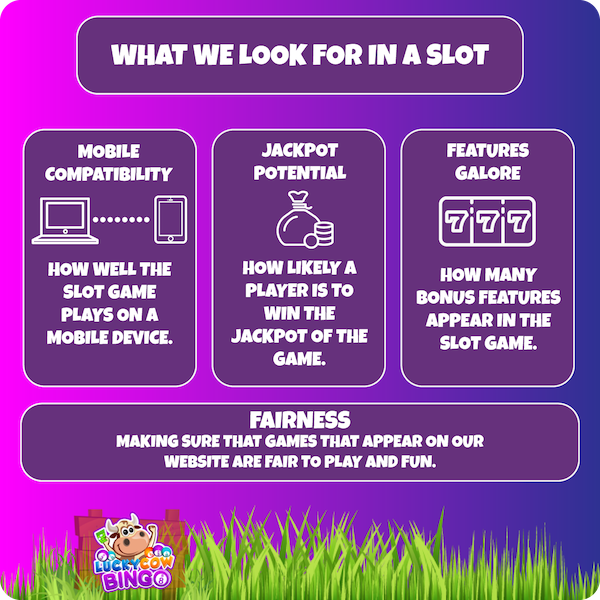 We're pretty discerning when it comes to picking slots to play on and have a laundry list of features that we watch out for. These take into account pretty much every aspect of the gaming experience:
Mobile Compatibility – Most modern day slot games will allow you to play on your device, but we also like to check out how well they display on these. Nobody wants to be fussing around trying to tap small buttons on their mobile device, so we prefer ones that keep the user interface simple.
Jackpot Potential – While we can spend our time dreaming about netting a top jackpot, we also like to assess how likely this is to happen. Statistically speaking, the regular symbols are the ones that are most likely to hand you a jackpot, so we like these multipliers to be on the high side.
Features Galore – The more bonus features, the better in our book. Games that have lots of variety in their features and more than one bonus round are always the ones that keep us on our toes. What's not to love about extra ways to win?
Fairness – You can rest assured that every single game on our site has been scrutinised and tested for fairness. As part of our dedication to our players, we vet each and every one of them.
That's pretty much everything that you need to know about our various slot games. Don't be shy if you've never played one before as you will be spinning and winning in no time at all. If you have any questions about slots or even about our site in general then feel free to contact us for more info, our help team will be happy to assist.