Our Ultimate Bingo Game Guide
Our Tips & Tricks section is here to help you get the most out of your Lucky Cow Bingo experience and this is our Ultimate Bingo Guide. This is perfect for new players who have just joined the site or for old hats that are looking to brush up on their skills for playing bingo games online.
Getting Started
If you've not already signed up for an account then you can do so in just a couple of minutes by clicking the button at the top of the site and then you will be ready to explore the site. This guide will focus on bingo, you can find out more about our slots here!
Additionally, we also have an exclusive welcome offer available as well which you can find in the promotional offers section of our site. However, this guide is all about playing the game of bingo and we have absolutely loads of options available. 
The Lucky Cow Bingo Lobby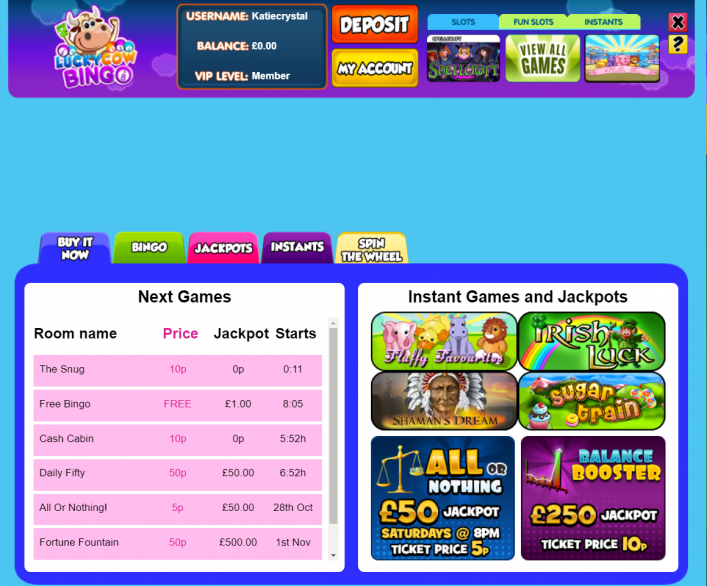 Now that you are all signed up and have had a look around the site you will be ready to play some bingo games online for the first time. You will find the games in the playable area of the site and this is known as the bingo lobby. The lobby provides the interface that can be used to physically enter the bingo rooms and it can only be entered once you are logged into your Lucky Cow Bingo account. Once you have logged in you can click the "Play Now" button at the top right-hand side of the screen and this will take you directly to the lobby home screen.
As you can see, from our screenshot above, the lobby has a lot of features so you can have a look around by clicking on the various tabs on the site. You can play every type of bingo here including games that require you to purchase a ticket and also some of our free bingo games as well. You will also find a list of our jackpots which can also be found in our promotions section as well. Your account details and current balance will be located at the top of the lobby too so you will be able to keep track of your spending.
Games Available
Now that you have familiarised yourself with the lobby you will be ready to play some bingo for the first time and you can even play bingo games free from time to time on Lucky Cow Bingo. There are two main categories of bingo available on our site:
90 Ball Bingo
When it comes to playing bingo in the UK you could argue that 90 ball is probably the most popular. This is the perfect game for new bingo players as it offers more than one chance to win in a lot of cases. When you buy a 90 ball bingo ticket you will receive a card with 27 spaces, some with numbers and some without. When the numbers are called during the game it is your job to dab the numbers on the card and the top prize for this game will be won by the first player to complete their entire card. 
75 Ball Bingo
On the other side of things, we have the 75 ball bingo game and this game is played more in the US than in Britain. However, we have plenty of these games to enjoy and the 75 ball variant is perfect for players who do not want to share the jackpot prize. You can purchase a card with 25 numbers and if you can complete a specific pattern then you will win the entire jackpot on offer. The winning patterns will be outlined at the start of the game and it really is that simple. 
Tips & Tricks
Now that you understand how to play bingo games online here at Lucky Cow Bingo here are some tips and tricks to help make your experience as enjoyable as possible:
Use the bingo schedule in the lobby to find the best bingo games free online if you are on a budget.
You can play bingo games for free all throughout the week if you've made a recent deposit and there are real cash prizes to play for.
Pre-purchasing cards is advised for some of the busier jackpot games as the bingo rooms can fill up pretty quickly.
The Lucky Cow Bingo Blog is updated weekly with lots of new hints and tips as well as the latest offers. 
Need Help?
You won't become a bingo pro overnight which is why our support team is on-hand to help you with any queries that you may have. All you have to do is click the "Help" tab on our site and then you can get in touch with us.