Bumper Crop
Are you looking to harvest some jackpots? Bumper Crop is a thrilling slot game that will have you doing just that in no time at all! Join us as we take a look at what this game has to offer and why you should be giving it a whirl.
About Bumper Crop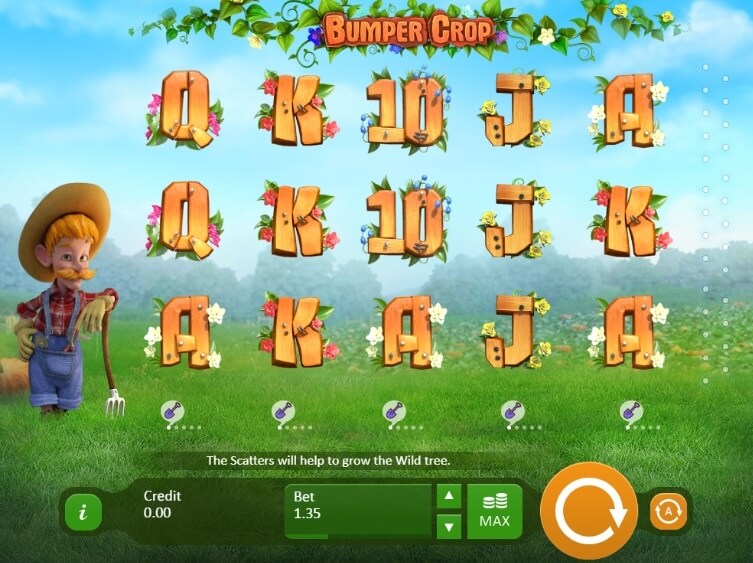 You don't need to be green fingered to check out this game, as it's accessible for every player. The game starts with a short video that introduces the main characters and gets you ready to play. As you spin those reels, anything can happen so you'd better keep your eyes peeled.

This game is full of surprises and there's even a secret identity in the mix. If you like games that keep throwing new features and bonuses at you then this is a great game to try out. Bumper Crop was created by Playson and this means you're in for a great time when you check out this game.
How to Play
This game is ridiculously simple to play, as all you have to do is decide how much you want to spend. The wagers go from 27p to £135, which may seem like odd numbers but they're determined by the fact there's 27 paylines. These are always active so you don't miss out on chances to win if you bet a bit less.

Once you've got the bet sorted, just hit the spin button. There's also an auto play feature, just set up how many spins you want to play with and you're ready to go.

The aim of the game is to get three of a kind of any symbol on a payline to win. The multiplier values are available on the paytable, so just open this up if you want to see what these symbols could do for your bet.
Special Features
In terms of special features, there are a couple that you'll want to know about in this game. The first is the growing wild, which fits into the theme of the game. Just line up the right symbols and the wild will begin to grow from the bottom to the top of the reels.
We love this bonus feature, as it brings a lot of action to the table. This kind of ingenious bonus round is just what we want to see in our favourite slot games.

There's also the scatter symbol to watch for as it pays anywhere on the reels. The simple farmer is the scatter symbol and he can also be replaced by the superhero in the special feature. When the superhero appears, he'll also help those wild trees grow and boost your winning power.
Our Verdict
Bumper Crop is a great jackpot game that will be sure to delight players, even the pickiest ones will find something to love about this game. Open up our lobby on your desktop or on your mobile device then you can get out there into the fields and grow those big bumper jackpots.